Today I was delighted to learn about a wonderfully creative yarn shop in Portland, Yarnia. Custom blended yarn is the norm there; all of the yarn offered is created (on a custom-made yarn winding machine) out of up to six singles yarns (although the singles yarns are also available for purchase).
Your choices include a wide array of colors, as well as fibers ranging from inexpensive acrylics to cashmere to tweedy mohairs. After you decide on your desired amount of yarn (by yardage or by weight)  the staff will wind it up to your specifications. They even keep notes on your choices, so that if you want or need more of your custom yarn, they'll be able to recreate it for you.
Although you could certainly go with bright or wild color choices, I was particularly struck by a house blend called Suetado: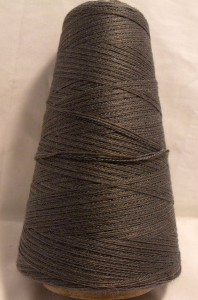 Suetado's fiber content of wool, bamboo, and nylon, in muted neutrals, reminds me of the yarns used in knit garments at Eileen Fisher (at a fraction of the cost). At $22 for 435 yards, it's an amazing bargain.
Handspinners have always had the option to combine strands for more complex yarns. And of course handknitters can do it by setting up multiple cones of singles, but coned yarn is often only sold in immense quantities, and knitting from multiple cones is awkward. The service Yarnia provides, blending and packaging exactly what you request, is an example of mass customization akin to Timberland's Design Your Own boots or various custom denim companies.
Using a blend from Yarnia, every aspect of a knitting project can be knitter's choice — fiber content, number of strands, colors, textures, pattern used, sizing — so you can be sure your handknit will be unique. I look forward to making a pilgrimage to Yarnia someday (or at least ordering from their clever online custom yarn builder).